Owner, Medical Exercise Specialist
Maren Sederquist, MES, CSCS, CPT
Certified Medical Exercise Specialist (MES) by the American Academy of Health, Fitness and Rehabilitation Professionals (AAHFRP).
Certified Ergonomics Assessment Specialist (CEAS) by The Back School.
Certified Cancer Exercise Specialist (CES) by the Cancer Exercise Training Institute (CETI).
Certified Performance Enhancement Specialist (PES) and Certified Advanced Personal Trainer (CPT) by the National Academy of Sports Medicine (NASM).
Certified Strength and Conditioning Specialist (CSCS) by the National Strength and Conditioning Association (NSCA).
Certified Lifestyle and Weight Management Consultant (LWMC) and Certified Personal Trainer by the American Council on Exercise (ACE).
Certified Personal Fitness Trainer by The National Endurance and Sports Trainers Association (NESTA).
IDEA Elite Personal Fitness Trainer and Business Member of the International Association of Fitness Professionals (IDEA).
Accredited Interscholastic Coach (AIC) by The National Federation of State High School Associations
Head Varsity Badminton Coach for Willow Glen High School.
Certified to teach The Swing Reaction System™ Golf Exercise Program.
Current CPR with AED and First Aid certification by the American Red Cross or American Heart Association.
Member of the American College of Sports Medicine (ACSM).
Member of the American Medical Athletic Association (AMAA).
Member of the Health Psychology Division of the American Psychological Association (APA).
BA in Psychology, with a minor in Chemistry, and all Pre-Med requisites fulfilled.
Received training in Yoga, Feldenkrais, Pilates, Tai Chi and other mind/body exercise techniques.
Attends numerous conferences, seminars, and workshops on current health and fitness subjects. CECs partial list.
Over 30 years of experience!
Staff Trainers
Lori Krause, NASM-CPT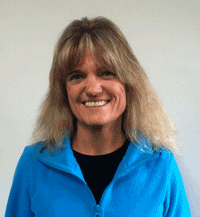 Certified Personal Trainer by the National Academy of Sports Medicine (NASM).
Certified SafeStrength Trainer by Alive! Whole Life Fitness.
Current CPR and AED certification with the American Health and Safety Institute.
Member of the Health and Fitness Providers Network (HFPN).
25 years of strength training experience.
Member of the San Mateo County Parks Volunteer Horse Patrol.
Enjoys working out, playing softball, equestrian activities, meditating and spending quality time with family and friends.
Passionate and dedicated to helping others to achieve optimal health and functional fitness through integrated training and nutritional awareness.
Jim Jensen, NASM-CPT, CES
Owner of Fit for Life.
Associate of Arts degree with honors in Adaptive Fitness from Foothill College.
Certified Personal Trainer by the National Academy of Sports Medicine (NASM).
Advanced certification as a Corrective Exercise Specialist by (NASM).
Certified YMCA Active Older Adult Exercise Instructor.
Foundations of YMCA Group Exercise Certification.
Adult CPR and First Aid Basics through the American Red Cross.
Member of IDEA Health & Fitness Association.
Extensive experience training clients with multiple sclerosis and in wheel chairs.
BS in Environmental Planning and Management from UC Davis.
Ran cross country and played baseball in highs school. Been involved with personal fitness entire life.
Has two adult daughters.
Loves hiking, trail running, skiing, working out in his home gym, dancing, photography, wildlife and music (trumpet player in the West Bay Community Band.)