Partial List of Maren's Continuing Education
We want you to have the latest health information, the best fitness tips and the most current exercise techniques!
7/9/2021
IDEA World Virtual Conference July 2021
Sessions Include:
The Secrets to Client Compliance
Motivational Interviewing: Transforming Client Sessions Into Client Experiences
Coaching Science: Enhancing Performance and Skill Acquisition
in Your Clients
Exercise Testing for Athletes and Nonathletes
Loaded Mobility Training: Combining Mobility, Stability and Strength in Program Design
Improving Upper-Body Kinetic Chain Function for Shoulder and Neck Pain
Understanding Fascia-How To Unlock New Levels of Athleticism, Flexibility, Recovery and Aesthetics
Developing Perfect Bone- Building Exercises
Strong BFR TrainingTM—The Biohack for Aging Baby Boomers
Glute Training: From Beginner to Advanced
Train Clients Happy for Better Retention and Results
Five Body-Weight Exercises and Goals for All Clients
I've Fallen and I CAN Get Up: Power Training for Seniors
3/7/2021
IDEA Personal Trainer Institute Virtual Conference 2021
Sessions Include:
Metabolic Makeover: Key Science and Applications
Your Brain on Exercise
Hypertrophy Best Practices: 8 Resistance
Body Inclusivity: More than a Movement
Maximize your Maximus: Advanced Glutes Training
12/31/2021
NSCA CSCS (Certified Strength and Conditioning Specialist) Certification Renewed through 12/31/2023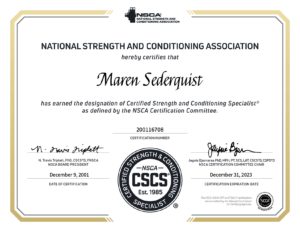 10/13/2021
NASM Optima Virtual Conference
Sessions include:
Liberate Your Posture: Creative Techniques to Improve Everyday Function
Simplifying Plant-Based Eating for Clients
Favorably Altering Body Composition—From Dreams to Reality,
Upper Extremity Movement Impairments: Movement Screening and Corrective Exercise Strategies
Don't Eat That! How Words Shape the Way We Eat
Training the Active Female Client Over 40
Solution Focused Fitness—Motivate Members to Make Smart Changes!
The Merging Of Mental Performance Training in Dietary Practice
Micronutrients and the Immune System
Diabetes – We are So Close to Preventing It!
Osteoporosis, The Silent Thief—Prevention for Female Clients
The Art of Micro Progressions
Nutrigenomics for the Fitness Professional
Nutrition for Cognitive Optimization
Motivation and Myths in Fitness & Weight Management
How Much Protein Do You Really Need?
Trx Beyond the Basics
8/21/2021
IDEA World Virtual Conference
The Nutrition and Mental Health Connection by Maggie Moon, MS
Client Excuses for Not Exercising and Solutions to Retrain Their Behavior
Progressive Pogramming for Active Aging by Leslee Bender
Other workshops by Todd Durkin & Peter Twist
5/24/2020
Cancer Exercise Training Institute (CETI) Cancer Exercise Specialist Certification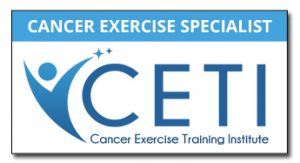 1/25/2020
Perform Better Learn By Doing Seminar
Lee Burton (A New Look at Corrective Strategies), Josh Henkin (Train the Planes to Connect the Chains), Martin Rooney (7 Lessons to Help More People Get Better)
9/16/2019
Exercise Etc. – The HIIT Advantage Course
9/16/2019
Exercise Etc. – Understanding Shoulder Dysfunction Course
9/26/2019
Exercise Etc. – Core training: Working Hard or Hardly Working
9/16/2019
Exercise Etc. – Integrated Postural Training Course
8/18/2019
NASM Personal Trainer Re-Certified through 8/18/2023

1/19/2019
Perform Better Learn By Doing Seminar
Dana Santas (Change Your Breathing, Change Your Game), Todd Durkin, Mike Boyle (Current Concepts in Core Training)
7/23/2018
Accredited Interscholastic Coach (AIC)
The National Federation of State High School Associations
1/22/2017
TRX – Suspension Training Course
TRXTraining.com
12/10/2016
Heartsaver CPR and First Aid Course
Heartshare Training
2/19-20/2016
Certified Ergonomics Assessment Specialist (CEAS I)
The Back School
1/23/2016
Perform Better Learn By Doing Seminar
Rachel Cosgrove, Charlie Weingroff (Pick a Plan – Choosing the Best Approach), Nick Winkleman (Learning that Sticks – How Analogies Shape understanding) & Todd Durkin
1/16/2015
Evidence-Based Pilates – Therapeutic Exercise for Orthopedic and Geriatric Rehabilitation
Catherine Lewan, DPT
10/17/2015
Ultimate Neck & Shoulder Massage
Jason Chan, CMT
3/21/2015
Pain Away: Neck & Shoulders
Jason Chan, CMT
2/21/2015
Pain Away: Low Back & Hips
Jason Chan, CMT
2/7/2015
Heartsaver CPR and First Aid Course
Heartshare Training
1/24/2015
Hip Opening Workshop
Breathe Yoga, Los Gatos
1/17/2015
Perform Better Learn By Doing Seminar
Program Design Made Easy – Robert Dos Remedios
Energy System Development – Brandon Marcello
A Concept to the Fundamental Human Movements – Dan John
Metabolic Resistance Training – -Alwyn Cosgrove
1/16/15
Pilates Seminar
10/18-19/2014
Therapeutic Taping
Therapy Network Seminars
Dyanna Haley-Rezac DPT and Scott Rezac DPT
1/25/2014
Perform Better Learn By Doing Seminar
The Art and Science of Small Group Training – Martin Rooney
Extraordinary Self – Todd Durkin
Reconditioning: A Performance Based Model for Injured Athletes – Bill Knowles
Training Groups and Teams – Better Than Bootcamps – Mike Boyle
8/23-24/2013
Functional Movement Screen Workshop
4/13/2013
Heartsaver CPR and First Aid Course
Heartshare Training
12/1/2012
NASM Corrective Exercise Specialist Workshop
1/28/2012
Perform Better Learn By Doing Seminar
11/7/2011
Youth Running Seminar
Monte Vista High School
5/2/2011
BLS Basic Life Support, CPR and First Aid
Heartshare Training
11/15/2009
Exercise Etc. Seminar
5/23/2009
BLS Basic Life Support, CPR and First Aid
Heartshare Training
6/9/2007
BLS Basic Life Support, CPR and First Aid
Heartshare Training
3/12/2006
The Diet Scam: Deconstruction of Fad Diets
SCW Fitness Convention
Dominique Adair, MS
3/10/2006
Making Fitness Stick: Setting Realistic Goals
SCW Fitness Convention
Megan Frady
3/8/2006
Hands on Balance, Stability, Mobility and Conditioning for the 50+ Adult Specialty Certificate
SCW Fitness Education
Douglas Brooks, MS
2/16/2006
Weight Management for Women
DSW Fitness Live Webinar
Len Kravitz, Ph.D.
2/12/2006
Paul Chek on Functional Exercise and Training
Fitness Certification of Completion
Paul Chek
1/14/2006
Lower Body Plyometrics: Evaluation, Preparation and Integration
Perform Better Functional Training Series Certification of Completion
Al Vermeil
1/14/2006
It's All Relative: Core and…
Perform Better Functional Training Series Certification of Completion
Annette Lang
1/14/2006
Plyometric Training for the Upper Extremities
Perform Better Functional Training Series Certification of Completion
Don Chu
1/14/2006
Five Most Common Mistakes in Core Training
Perform Better Functional Training Series Certification of Completion
Gray Cook
1/14/2006
The Business of Performance Coaching
Perform Better Functional Training Series Certification of Completion
Duane Carlisle
5/7/2005
Functional Training: Breaking the Bonds of Traditionalism
Desert Southwest Fitness
4/2/2005
Adult CPR renewal
American Red Cross
3/1/2005
Posture and the Post-Rehab Client
Kimberly C. Williams
2/13/2005
Paul Simica on Functional Exercise and Training
Bob Damashek
1/24/2005
Neuromuscular Stretching For The Fitness Professional
National Academy of Sports Medicine
1/24/2005
Article Questions: Low Back Pain
National Academy of Sports Medicine
1/24/2005
Article Questions: Self Myofascial Release Techniques
National Academy of Sports Medicine
1/24/2005
Article Questions: Putting the Maximus Back in Your Gluteus
National Academy of Sports Medicine
12/22/2004
Balance Training: A Program for Improving Balance in Older Adults
Tish Monroe
12/20/2004
Mom and Baby Exercise
Desert Southwest Fitness
12/5/2004
Paul Schell on Functional Exercise and Training
Bob Damashek
2/21/2004
Keep On Rollin': Functional Fitness Using the Foam Roller
Stacy Barrows, PT, CFP
2/7/2004
John Blievernicht on Functional Exercise and Training
Bob Damashek
1/1/2004
Functional Training Seminars- One Day Learn by Doing
John Brock
1/17/2004
Periodization "Putting it all Together"
Perform Better Training Series Certification of Completion
Steven Plisk
1/17/2004
Targeting Power for Performance
Perform Better Training Series Certification of Completion
Diane Vives
1/17/2004
Where, Why and How Stretching is Applied
Perform Better Training Series Certification of Completion
Mike Clark
1/17/2004
The Art and Science of Functional Training
Perform Better Training Series Certification of Completion
Mike Boyle
1/17/2004
Funtional Integrated Abdominal Training
Perform Better Training Series Certification of Completion
Chuck Wolf
5/6-10/2003
2003 NASM International Conference: Beyond Functional Training
National Academy of Sports Medicine
2002-2003
Exercise Nutrition
Perform Better Training Series Certification of Completion
Tom Incledon
2002-2003
Acceleration & Agility Training
Perform Better Training Series Certification of Completion
Al Vermeil
2002-2003
Body Weight Training
Perform Better Training Series Certification of Completion
Juan Carlos Santana
2002-2003
Tools Used for the Trade
Perform Better Training Series Certification of Completion
Mike Boyle
2002-2003
Low Back Rehabilitation & Injury Prevention
Perform Better Training Series Certification of Completion
Mike Clark, MS, PT, PEC, CES
12/31/2002
Perform Better Functional Training Series
John Brock
12/15/2002
Resistance Training Benefits and Recommendations for Older Adults
Joel T. Cramer
5/27-31/2002
2002 International Conference – Fitness, Sports and Reconditioning for the New Millennium
National Academy of Sports Medicine
12/9/2001
Certified Strength and Conditioning Specialist
NCSA
8/31/2001
Certified Personal Trainer Renewal
American Council on Exercise
7/31/2001
Certified Lifestyle and Weight Management Consultant
American Council on Exercise
7/8/2001
Total Body Power
IDEA Personal Trainer Summit West
John Blievernicht, MA
7/8/2001
Therapeutic Approach to Exercise for Clients with Back Pain
IDEA Personal Trainer Summit West
Greg Roskoph, MA
7/8/2001
Analysis of Human Gait: Basic Science & Practical Applications
IDEA Personal Trainer Summit West
Todd Ellenbecker, MA
7/8/2001
Ergonomics and the Personal Trainer
IDEA Personal Trainer Summit West
Lenita Anthony, MA
7/8/2001
Mental Skills Training for Personal trainers
IDEA Personal Trainer Summit West
Justin Price, MA
7/8/2001
Trigger Point Therapy
IDEA Personal Trainer Summit West
Karen Baskin, MA, HHP
7/8/2001
Integrated Program Design and Implementation
IDEA Personal Trainer Summit West
Juan Carlos Santana, MEd
6/23-24/2001
NASM Performance Enhancement Specialist Workshop
National Academy of Sports Medicine
11/22/2000
Perinatal Fitness
Desert Southwest Fitness
11/22/2000
Exercise and Pregnancy
Desert Southwest Fitness
6/23/2000
Advanced Trunk Strength Training
Moves International Home Study Course
8/31/1999
Certified Personal Trainer Renewal
American Council on Exercise
5/29/1999
BA in Psychology,
Minor in Chemistry,
All Pre-Med Requisites Fulfilled
San Jose State University
5/29-31/1998
Exercise Prescription for Seniors with Health
Fact & Idea Fest
5/29-31/1998
ROM-Stretching the Truth
Fact & Idea Fest
5/29-31/1998
Fibromyalgia
Fact & Idea Fest
5/29-31/1998
NIKE ATC
Fact & Idea Fest
5/29-31/1998
Strengthen, Stretch, & Stabilize: Advanced
Fact & Idea Fest
5/29-31/1998
Program Design for Resistance Training
Fact & Idea Fest
5/29-31/1998
Fit Over Fifty Balance, Stretch & Tone
Fact & Idea Fest
5/29-31/1998
Functional Stability
Fact & Idea Fest
5/29-31/1998
www.fitness.com
Fact & Idea Fest
5/29-31/1998
Killer Floor
Fact & Idea Fest
5/29-31/1998
Exercise Prescription for the Obese
Fact & Idea Fest
8/31/1997
Certified Personal Trainer
American Council on Exercise
4/6/1997
The Swing Reaction System – Golf Exercise Certification
Neil Chasan
1/26/1997
Membership
American College of Sports Medicine
11/1-2/1996
NASM/APEX Fitness Training Workshop
National Academy of Sports Medicine
10/1996
Perfect Balance
Club Sport Revival
10/1996
Ultra Abs
Club Sport Revival
10/1996
Kinesthetic Expressions
Club Sport Revival
10/1996
Improved Performance
Club Sport Revival
10/1996
Club Hike
Club Sport Revival
10/1996
Special Populations
Club Sport Revival
10/1996
Exercise Adherence
Club Sport Revival
10/1996
Option for Seniors
Club Sport Revival
10/1996
Nutrition Quackery
Club Sport Revival
10/1996
Injury Prevention
Club Sport Revival
8/15/1996
Personal Trainers and the Medical Community
Gregory Florez and Michael Jones
8/15/1996
Exercise and Special Medical Concerns
Daniel Kosich, Kathleen Haralson, La Forge
10/8/1995
Abdominal Exercises that Work!
Debbie Reichenback
10/8/1995
Pregnancy and Exercise: A Practical Application
Lauri Reimer Mihailov
10/8/1995
Midlife and Menopause:Unscheduled Events in Life
Leora Myers
10/8/1995
Mind & Body for Today's Fitness
Timothy Ghazaleh
10/8/1995
Total Stretch on the Ball
Douglas Brooks
10/7/1995
AAA Torso Training for Optimum Performance
Deborah Ellison
10/7/1995
Successful Stretching: Flexible Methods for Inflexible
Deborah Ellison
10/7/1995
The Last Resort Nutrition Lecture
Joan Kent
10/7/1995
Fitness for Body and Mind
Shereen Motarjemi
10/7/1995
Introduction to the Pilates Technique
Cathie Murakami
10/7/1995
Walk Reebok Interval Conditioning
Candice Copeland-Brooks
8/24-27/1995
Medical Exercise Specialist Workshop
American Academy of Health & Fitness Professionals
11/30/1994
Certified Aerobics Instructor Renewal
American Council on Exercise
6/5/1994
Medicine, Fitness, Health
IDEA World Research Forum
James Rippe, MD
6/5/1994
Nutrition
IDEA World Research Forum
Nancy Rodriguez, PhD, RD
6/5/1994
Exercise Psychology and Adherence
IDEA World Research Forum
Jack Raglin, PhD
6/5/1994
Group Exercise
IDEA World Research Forum
Dixie Stanforth, MS
6/5/1994
Weight Control and Eating Behavior
IDEA World Research Forum
Ross Andersen, PhD
6/5/1994
Strength Training
IDEA World Research Forum
Wayne Wescott, PhD
6/5/1994
Mind-Body Fitness
IDEA World Research Forum
Ralph LaForge, MS
6/5/1994
Original Research Presentations
IDEA World Research Forum
Len Kravitz, PhD, Carol Kennedy, MS, Mel Siff, PhD
10/8/1993
Personal Trainers Resources
Connie Love and Mark Cibrario
5/22/1993
Exercise for People with Diabetes, Neurologic Disorders, and HIV Infections
Barry Braun, Jane Kent-Braun, Kathleen Mulligan
5/1/1993
Muscle Imbalances
Barbara Merrill
11/3/1992
Certified Fitness Instructor Renewal
IDEA Foundation
11/3/1992
Certified Aerobics Instructor
American Council on Exercise
11/3/1990
Certified Fitness Instructor
IDEA Foundation
7/1/1990
Completed San Francisco Marathon
1988-1990
Sports Psychology, Nutrition and numerous PE Classes
Foothill College